Lecture Hall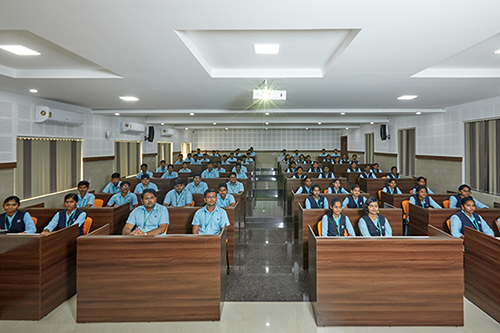 KMCH College of Pharmacy campus has spacious, well equipped lecture halls that provide the most favorable atmosphere for vibrant and focused learning. The lecture halls are furnished with contemporary audiovisual possessions. The audiovisual amenities vary according to the program of study. Lecture hall PCs are also prepared with identical software. The Lecture halls are properly ventilated and ergonomically designed to make sure that each student has adequate space, and each faculty member has the conveniences required to deliver to students/ learners a focused arena to develop their personalities.
In addition to lecture hall teaching, students can interact with faculties in discussion room located in each faculty room. These facilities therefore, make classroom teaching and learning an pleasant and productive experience for the students as well as faculty members. Display boards have been put up in the lecture halls, which serve as platforms for cheering ingenuity and mounting awareness among the students.
Audio Visual Hall
AV Hall is designed to meet the challenging expectations of modern-day students. The Hall is equipped with audiovisual equipment like Video projectors with auto recording facility, Cameras, comfortable seating, carpeting, wall paneling for acoustic effects, air-condition facility and a podium. The AV Hall is virtually connected with modern designed board meeting room.
Multipurpose Hall
The multipurpose halls are mainly utilized for conducting seminar, conferences and examinations. They are well aided with comfortable seating and latest teaching audio-visual equipment like LCD Projectors, speakers, cordless mike, pointer torch and air conditioned to facilitate smooth kinetics of knowledge. Examination halls were monitored by digital camera with recorder and provided with metal detector for detecting electronic and other metal devices.